Easily Add Video to Your
Staff Development Program
Video Coaching and Peer Feedback System
Film, Upload, Invite Peer Feedback, Learn.
When it comes to professional learning, peer feedback is powerful. However, it is often too difficult to have an audience of your peers with you in the classroom. iCoach has a better solution.
iCoach provides a simple way to harness the power of video for instructional coaching, classroom observations, peer feedback and competency assessment. It is a completely private system that allows you to invite feedback, including time-stamped comments on video or audio files that you upload to your iCoach account.
iCoach works on its own, or with Media-X's eWalk system to easily align comments to a professional framework, evaluation criteria or standards of practice. This easy to use web application is available in English, Spanish and French.
iCoach presents you with the ability to categorize, share and master-code video and audio files to provide examples of practice. The system can be deployed for small work groups and schools or across and entire enterprise. Video opens up a world of possibilities. Harness it with iCoach. We can show you how easy and powerful it can be.
I used iCoach and eWalk for a project and got great results!! A striving teacher who was on a type of probation really made HUGE growth over a short amount of time. We got student test scores back and her composite scores were the top of the grade level.
Donna Martin
Capture Your Classroom Video
Simply record your video with any video camera or smartphone and upload it to the iCoach system. iCoach supports the majority of video types.
Use iCoach on Multiple Platforms
Utilize iCoach with your computer or with your iPad/iPhone with the iCoach App for iOS. Film your video with your mobile device and quickly upload it, all with the iCoach mobile application.
Get Valuable Feedback With Peer Review
Send requests to your peers to allow them to watch and review your video. Peers you select can then make comments and recommendations.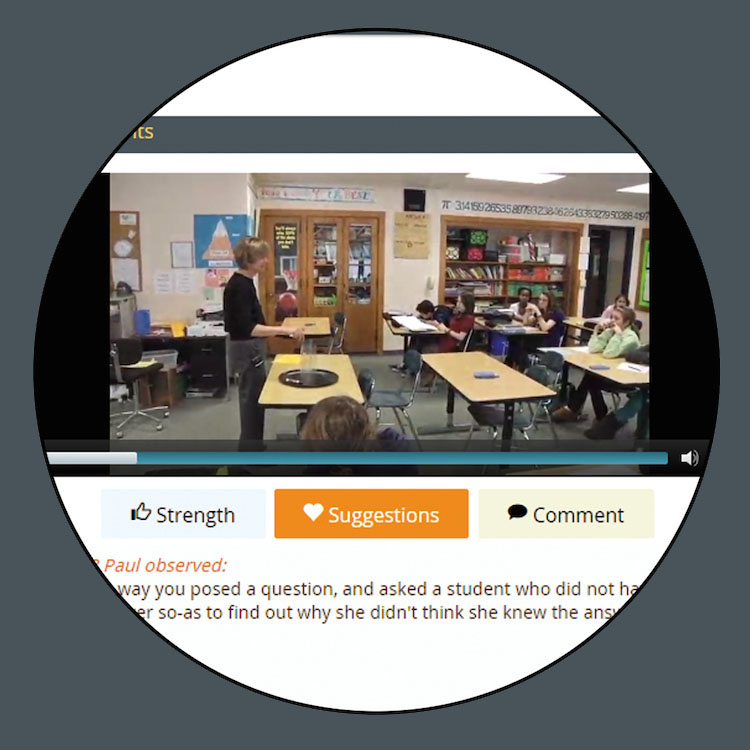 A Familiar Video Player
The iCoach video player is very similar to the majority of current web video players. Once a video is uploaded, it can be viewed on this video player. Peers can use the Strength, Suggestions or Comment buttons to pause the video and provide feedback, which is then displayed in the comment section beneath the video player.
Create Time-Stamped Comments for Video or Audio
This is the comment section of iCoach. Each video comment is time-stamped and categorized using your own category names and colors. Clicking on the comment jumps to that spot in the video or audio file. Teams can work together to comment on the same media file.