Visiting classrooms and conducting walk-throughs is only the beginning of our eWalk process. The real work comes when we sit down and analyze the data the process has provided. There are a variety of reports offered through eWalk that provide  valuable information regarding our school initiatives. eWalk provides us with a comprehensive platform to gather and analyze data so that we can make informed decisions regarding improvement initiatives in our school.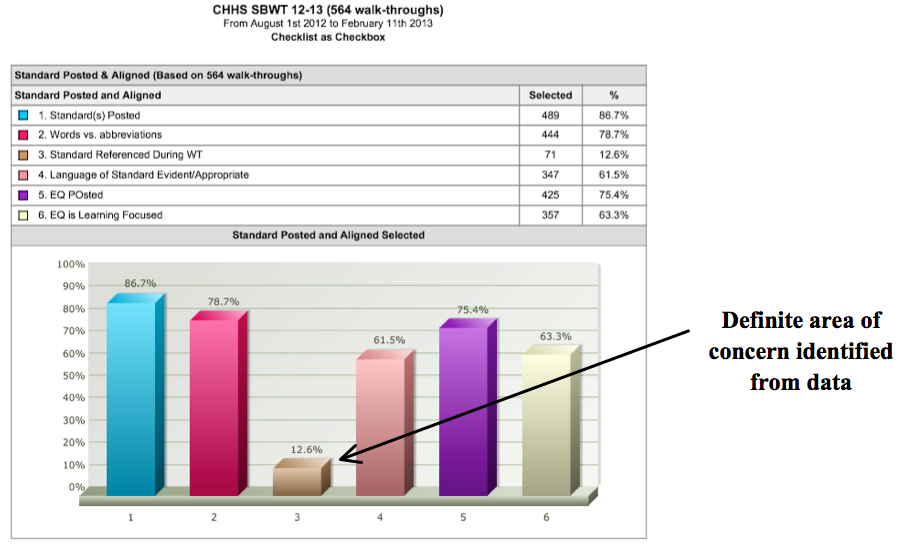 The table and graph pictured above is from the Overall Template Report. This report produces a graphic illustration for each of the fourteen elements contained in this template. As you can see from the graph, this element is from our Standards Based Walk Through (SBWT) template. We currently have 564 walk-throughs completed using this template.
This particular element is entitled Standards Posted & Aligned  and contains six items. The two columns located upper right provide data regarding the number and percentage each item was observed during a walk-through. You can clearly see from the graph that we are doing a good job on items one, two, and five. We need to focus more attention on items four and six. Unfortunately, the graph illustrates that we are failing in our efforts to reference the standard during instruction.
This data is reviewed in our administrative meetings where we formulate a plan of action to support our teachers in improving strategies to reference standards during instruction. eWalk also allows for data to be disaggregated beyond the whole school. Applying filters to the data template allows us to look specifically at a department.
Pictured below is the overall template report with the Math department selected to filter by department. I can now analyze data that is specific to the Math department. This data is very useful in department meetings. We will have discussions with the Math department chair or the Math department as a whole regarding patterns and trends in the eWalk data. This data is powerful for praising our teachers or initiating discussions regarding areas of concern.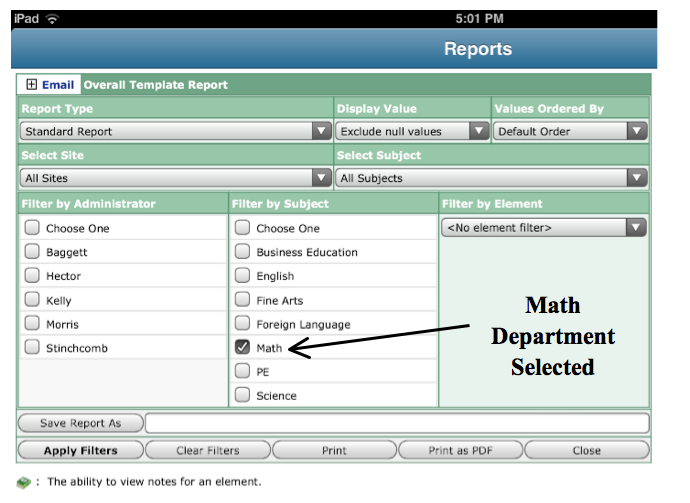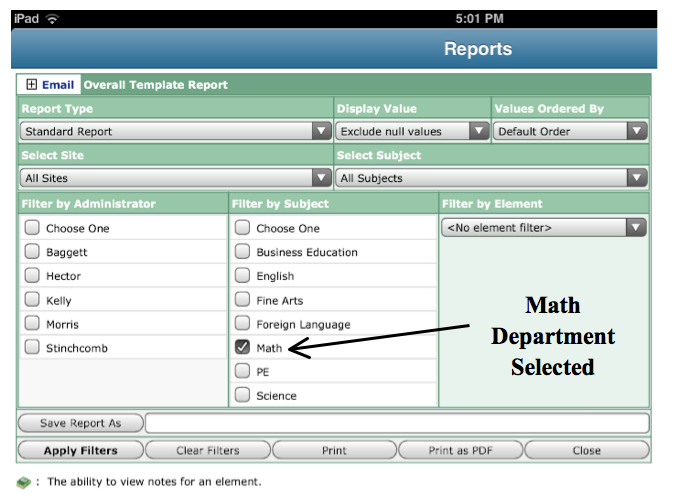 The Overall Template Report provides me with numerous data analysis opportunities. However, when I want to analyze data by teacher I will often use the Overall Subject Report. This report provides me with several pieces of information critical to our process. First, each teacher is displayed with the number of walk-throughs conducted in their classroom. With this data I have the ability to ensure we are somewhat consistent in our visits to classrooms. Low numbers of visits for a specific teacher will result in a conversation during our next administrative meeting regarding increasing our visits for that teacher. We surely do not want to be perceived as favoring one teacher over another.
We often hear and sometimes profess that decisions are data driven. Are they?
Just an FYI, those teachers you see with a low number of visits are most likely not in the classroom. For example; Ms. Bemus is a counselor and Ms. Collins is the Speech Therapist. The bottom portion of the Overall Subject Report provides me with information regarding the number of visits conducted and the template used.
As you can see, Ms. Williams has been visited nineteen times. Fifteen visits have been conducted using the SBWT template, three visits using the CLASSkeys Formative Analysis template, and one visit by a central office administrator using the Instructional Staff Walkthrough template. I simply select one of these templates and click submit to receive a detailed report regarding walk-through data recorded for Ms. Williams' class. Data is reported in the same manner as the Overall Template Report pictured above.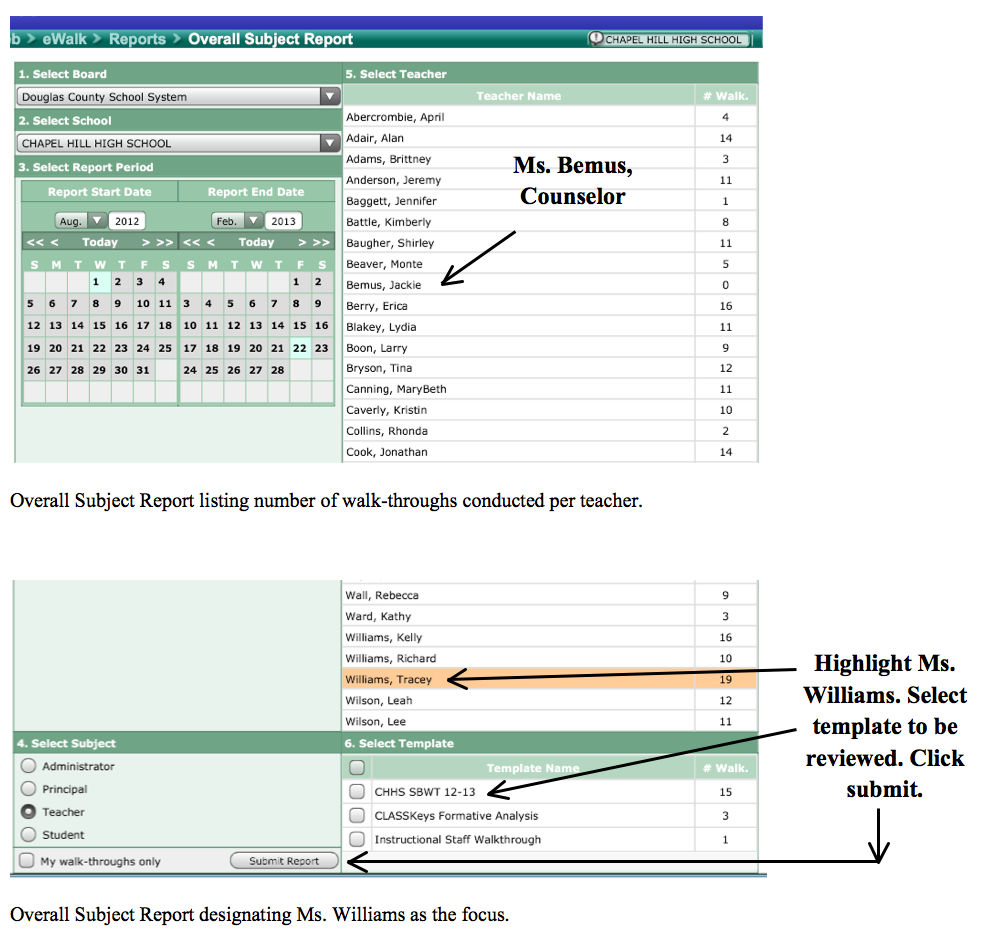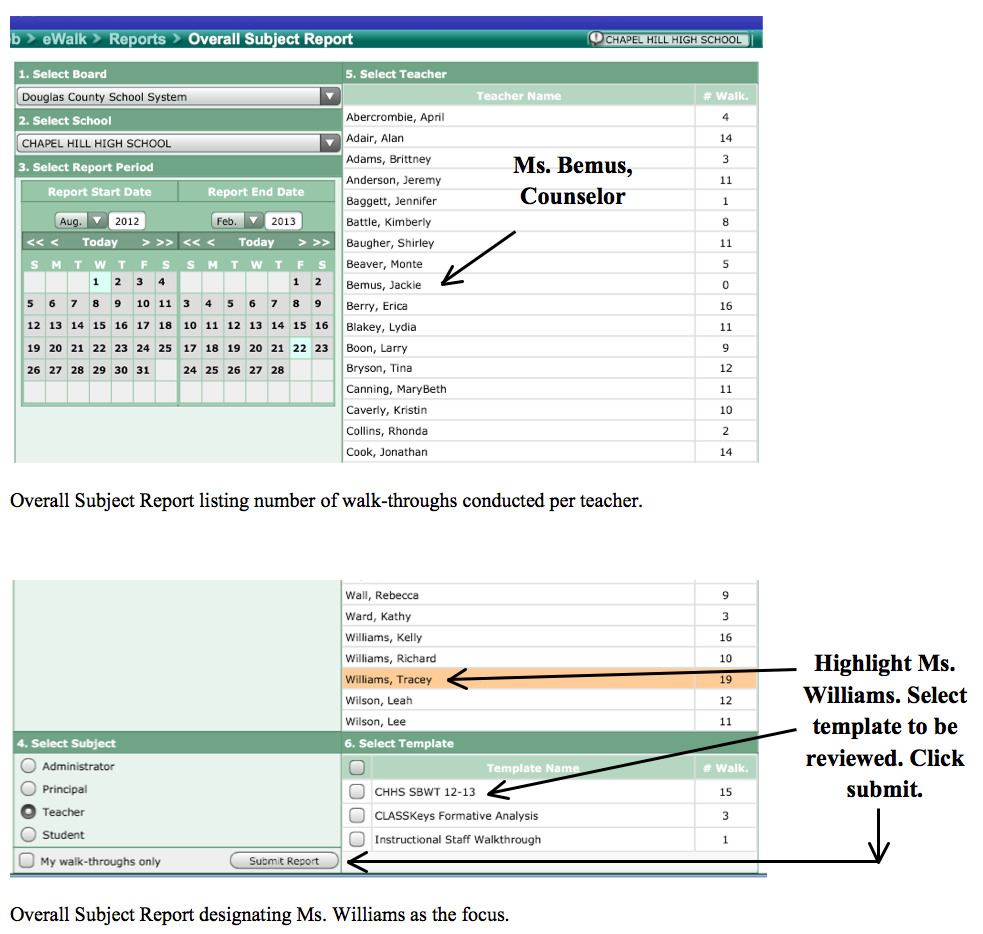 eWalk has provided a CLASSkeys Formative Analysis template for all users. This template is a powerful addition to our evaluation process. We conduct CLASSkeys observations of teachers in the same manner we conduct our walk-throughs. Each teacher is scheduled to have at least three observations to satisfy the CLASSkeys evaluation process. A report can be generated for the CLASSkeys Formative Analysis template just like the SBWT template.
This data provides me with insight into each element of the CLASSkeys Formative Analysis instrument for my school. As you can see from the graphs below, each element is represented by a table and a pie chart. This report function provides me with real-time information regarding the number and percentage of my teachers scoring in the not evident, emerging, proficient, or exemplary categories. Analyzing this data will allow me to immediately address any areas of deficiency or praise teachers for exemplary performance.
As you can see, eWalk provides me with several reports and endless opportunities to gather and analyze relevant data. However, the information I value the most is contained in every report and is reported for each element. I want to see the feedback we are providing teachers.
As administrators, are we providing teachers with meaningful feedback to support them in their teaching? Are we asking the right questions? Are we praising teachers for exemplary work? Are we supporting teachers through effectve feedback?
eWalk provides me with opportunities to collect and analyze data regarding our comments to teachers so that I can improve our efforts to support our teachers and ultimately our students. The screenshots below illustrate how eWalk provides us with a platform to monitor feedback we provide to teachers. We use this data to critically analyze what we are saying to teachers and to improve our ability to support them in their work.
We often hear and sometimes profess that decisions are data driven. Are they? eWalk provides real-time data we use to drive decisions. We use eWalk to monitor virtually every initiative we have in our building and one reason for this is the capability eWalk provides us to gather and analyze data.
If you find this information useful please leave a comment. If you are interested in our process or how we use eWalk in our school please contact me.
I welcome the opportunity for a conversation, consultation, or a visit. I can be reached at sean.kelly@douglas.k12.ga.us.