(Part 1 of 2 part series on the flipped classroom)
Being an "early adopter" educator is not an easy path.
My own path started in 1989 when I was 29 years old and a rookie Assistant Professor at a Pharmacy College in St. Louis, MO. My goal was to develop a national center for computer education and research and transform the college by applying computer technology.
Kind of a lofty goal when not a single faculty member had ever used a computer before. My plan was to teach the faculty how to use computers, then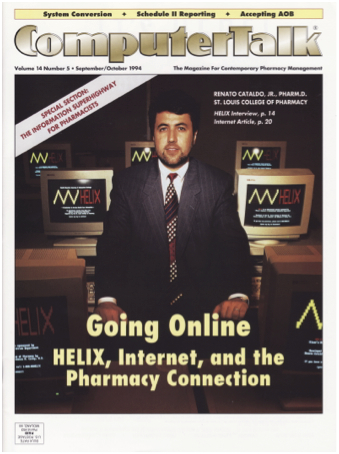 integrate them into the classroom, then develop research grants to fund the center.
The first problem started with the faculty who thought computers were going to "destroy" education. By volunteering to partner with faculty
members and be present in their courses (up to one third of the instruction time) in many of the freshman courses, I could be an example and mentor to the educators and students on the application of computer technology from English composition to Physics.
I created VHS videos for faculty and students that could be checked out from the campus library on basic functions like word processing and calculation application in spreadsheets. By 1992, the students were excelling and the research center had won millions of dollars in grants, we had developed the first online Health Education Learning Information eXchange (HELIX). By 1993, I was a tenured Associate professor and by late 1994, I left the college to start my own company focusing on the same concepts and taking the vision global.
The ideas below are some of my notes and thoughts that can help today's educators think through the process of flipping a classroom.
As my story began… Being an early adopter educator is not an easy path, but the benefits far outweigh the challenges ahead of you.
The "Flipped Classroom" has many benefits for students, but students will not always understand those benefits automatically, especially if they are experiencing a flipped classroom for the first time.  Here are some of the key benefits from my point of view.
1. Students practicing and honing self-regulated learning skills
This is a skill most students graduating from high school need in order to be a productive. By using a flip classroom model early in education, students will be comfortable developing their self-regulated learning skills.
I sent my oldest son to a school that focused on The Reggio Emilia approach (1995). The program is based on the principles of respect, responsibility, and community through exploration and discovery in a supportive and enriching environment based on the interests of the children through a self-guided curriculum. This process would have been perfect for the Flip Classroom model to accelerate the learning process and help students move forward.
2. Students need access to high quality video and materials for learning now and later that is free from advertising or distractions
That is one of the reasons we created FlipforLearning.com as a free service without advertising of any sort. Practicing new learning concepts independently will be an initial challenge for many students and the source of complaints from students and some parents. Educators need to focus on the long-term goal: improvements in student achievement.
3. Providing professionally curated materials by their own educator.
As educators, we try to deliver the best materials and education to our students on a consistent and perpetual basis.
Unfortunately we are only a small part of our student's lives as they may not always be "ready" for the information we wish to deliver at the time we wish to deliver it at school.
A student's life outside of school can be extremely complex and may not allow for any focus on traditional homework assignments.
The flipped classroom model is a perfect blend of access and application for today's students learning styles.  A typical classroom may have ten different levels of student capabilities.  A key way to service all of these students is to differentiate in class through experiential and problem-based learning.
Students who wish to listen to your content on their schedule can do so. Â Students who need to listen to your content multiple times can also do so.
4. Mentorship by the educator and the use of class time.
Students should be working on the hardest parts of the subject when the educator is physically present. This creates an opportunity for the educator to have a deeper understanding of the challenges each student faces.
Students get large blocks of time to work on activities generated or directed by the educator. For many students, this will be the only concentrated period of time they have for applications of your course content so use it efficiently and wisely.
(Next week: "Flipped Learning is Not About the Video)