When I began conducting classroom walkthroughs six years ago, my focus was to visit as many classrooms as possible to gather as much data as possible. I was focused on observing what occurred in classrooms with little or no consideration as to how this process would impact teachers. I did not even think of asking teachers their opinions regarding visitors in their classrooms.
A few years ago I conducted a small pilot study that focused on teacher perception of the walk-through process. What I learned from that small study has greatly impacted how I now conduct the walk-through process. eWalk is a tremendous tool that allows our walk-through process to be fluid, ever changing to meet the needs of our school. If there is one thing that I have learned in the past six years is that no matter how good you think the process is there are always opportunities to make things better.
Continuous evaluation and modification of the process ensures that we are consistently moving forward. Our desire is to continuously evaluate and improve our process so that it is valuable to all. It is important for the walk-through process to be meaningful to teachers and a catalyst for sustainable positive change in our school.
Looking back over the past six years I believe we have continuously improved our eWalk process. There has been much reflection and I think we are in a good place. However, we are always looking to improve. Following are some suggestions that I would offer to those who want to begin the eWalk process.
Is the eWalk initiative school based or system based? If the initiative is system based, I would suggest working with your direct report to establish expectations of you and the process. You will need to know the goal(s) of the process and the protocols that will need to be followed. I would ask who will be making decisions regarding what is to be observed, frequency of observations, template design, and data reporting. If this initiative is school based I would suggest the same but now you will be the direct report.
A school based eWalk initiative can be designed to meet your specific needs. The eWalk platform will allow you to customize your process and focus your attention on areas of interest that are important to you. Now is the time to get started.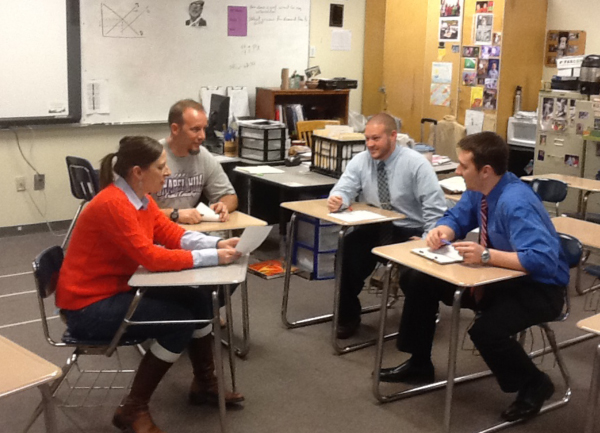 1. Planning
a)Â Â Â Â  Assemble your team. Identify and involve administrators and teacher leaders.
b)Â Â Â  Explain in detail to teacher leaders that the walk-through process is not evaluative in nature. The goal of the eWalk process is to gather, analyze, and use performance data to increase student achievement.
c)Â Â Â Â  Collaboratively identify the three to five things that have the greatest impact on student achievement (three to five items are ideal for the first year of implementation of the eWalk process).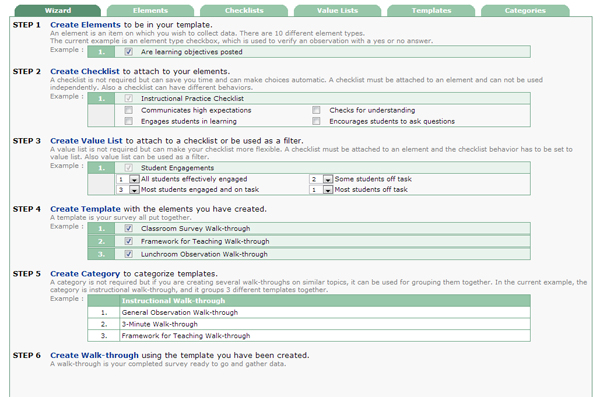 2. Template Design
a)Â Â Â Â  Build subject list of teachers. This allows you to personalize the walk-through.
b)Â Â Â  Consult the template wizard to assist you in building your template.
c)Â Â Â Â  Build elements that focus on the three to five items that were selected as having the greatest impact on student achievement.
d)Â Â Â  Create filters that will allow you to disaggregate data to the second and third level.
e)Â Â Â Â  Once the template is completed, share the template with observers.
 3. Establish eWalk protocols
a)Â Â Â Â  Focus on quality of walk-throughs and not quantity.
b)Â Â Â  Determine number of walk-throughs to be conducted each week. Limit this to the number of quality walk-throughs you can complete.
c)Â Â Â Â  Make a commitment to provide teachers with meaningful feedback for all elements.
d)Â Â Â  Email completed walk-through to teachers within 48-hours of visit.
e)Â Â Â Â  Establish a time each week to discuss walk-through data with significant participants.
 4. Implementation
a)Â Â Â Â  Remind teachers that they will have increased visits to their class.
b)Â Â Â  Revisit with all participants the purpose and goals of the walk-through process.
c)Â Â Â Â  Begin eWalk visits.
d)Â Â Â  Initial analysis of eWalk process after week one.
e)Â Â Â Â  Initial analysis of eWalk data after week two.
f)Â Â Â Â  Fine tune eWalk process if necessary after week two.
g)     Allow the eWalk process time to mature in your school. Don't be too quick to make big changes.
h)    In the beginning, the focus should primarily be on the positive aspects of classroom practice. You want to cultivate a relationship of trust with your teachers. Your desire should be for them to see the walk-through process as a learning experience and not as a "gotcha" from you.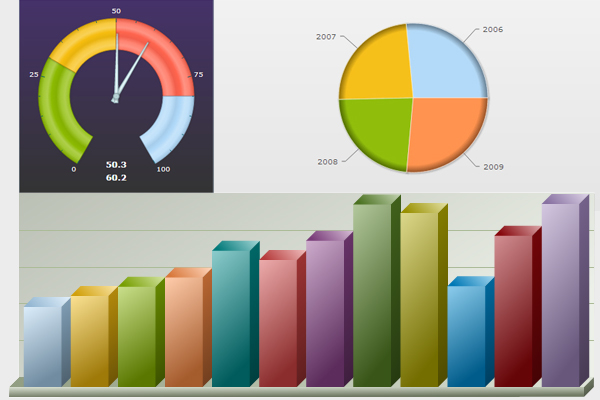 5. Analysis and Intervention
a)Â Â Â Â  Begin analyzing eWalk data after week two looking for patterns and trends.
b)Â Â Â  Prepare yourself for conversations and dialogue with teachers as they will want to communicate their perspective soon after they begin receiving walk-throughs with comments.
c)Â Â Â Â  Begin making comments to teachers that solicit reflection. This will open the door for conversation.
d)Â Â Â  After you have established the foundation of your walk-through process (1-2 months) you may begin some non-invasive interventions. I would suggest that you begin with some encouraging comments as to what you would like for teachers to consider.
e)Â Â Â Â  Stay away from directing teachers to do specific things.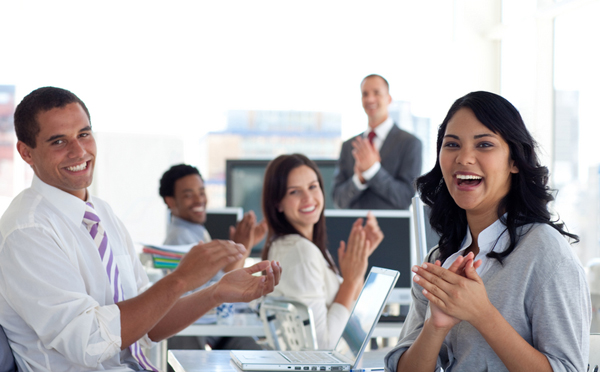 6. Refine and Revise
a)Â Â Â Â  The end of the year is a great time to reflect on the eWalk process and learn from your experiences.
b)Â Â Â  Survey your teachers regarding their opinion of the walk-through process and their suggestions of how to improve the program.
c)Â Â Â Â  Meet with your observation team (usually your administrative team) and have discussions regarding how to improve the walk-through process.
d)Â Â Â  Revise your process and/or your template based upon input from participants.
e)Â Â Â Â  Continue the eWalk process during the next year.
The eWalk process evolves as you gather data and as new initiatives are introduced. You will discover patterns and trends in the data that may result in an extension of the current process or lead you in an entirely new direction. Either is fine. The eWalk process is unique to your school or your district and can take any form you desire. Good luck.
For more ideas, check out the rest of the my series Building an eWalk Program in your School.
Part 2 Transform you school with a well planned eWalk implementation and Part 3 Using walkthroughs to help teachers become better educators.
Please leave a comment if you have found this information useful or if you have suggestions as to how the eWalk process can be improved. I check the site regularly and will respond to your comments. If you would like more detailed assistance, I can be reached at sean.kelly@douglas.k12.ga.us.