WELS Schools can eliminate the complexity of classroom walkthroughs and enhance educator growth with our web-based instruction supervision platform, eWalk
Let's Get Started:
Sign up today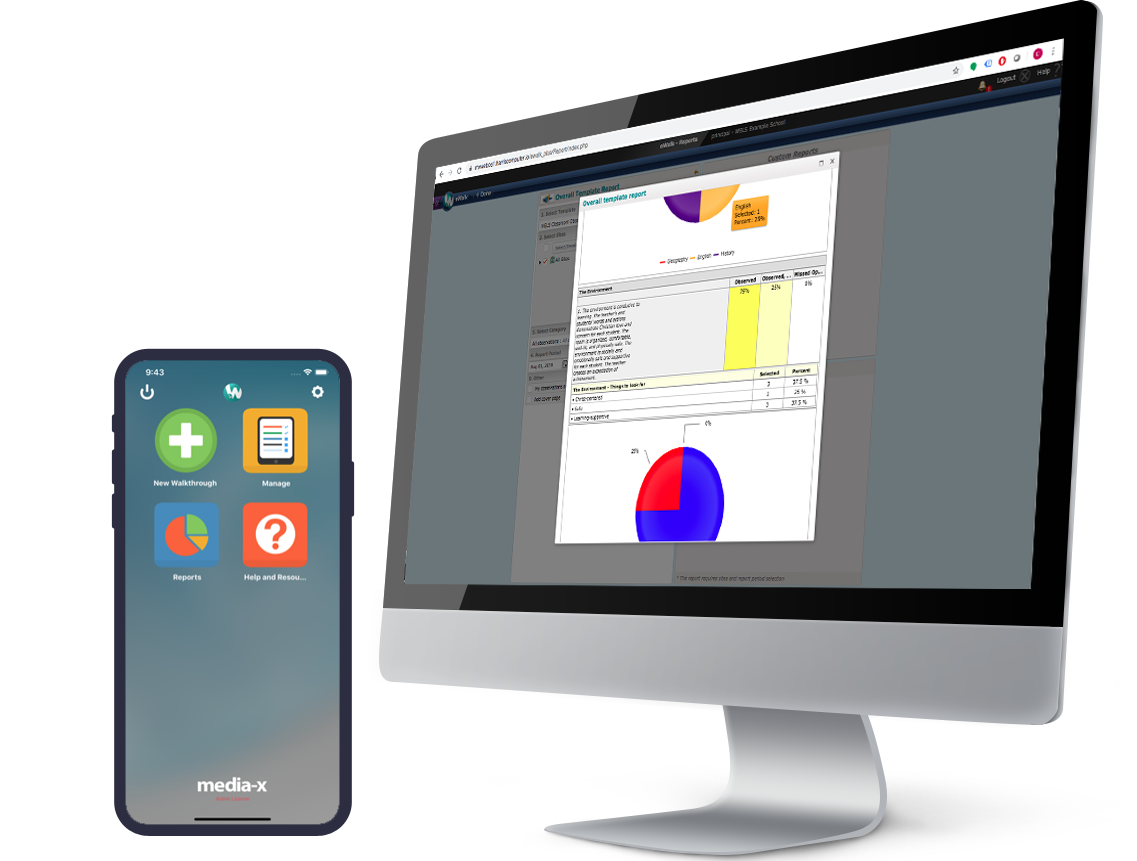 View a pre-recorded eWalk webinar with WELS content
What it can do, how you can use it and more.
Webinar
eWalk makes your informal walkthrough process simpler and more effective:
1. Use WELS Specific Walkthrough Forms
2. Eliminate the Paperwork
3. Take eWalk with You, Anywhere
4. Keep Things Organized
5. Easily Monitor Your Walkthrough Progress
6. Provide Powerful, Immediate Feedback for Your Teachers
7. Discover Trends with Intuitive Data Reports

eWalk was designed to make a real, positive impact not only on the way you observe and provide feedback to your teachers, but also on the way your teachers and students perform as a result.
Join the thousands of other schools and districts currently using eWalk to lead their teachers to new heights
Augment your instructional coaching with our optional research-based templates through our partner, McREL International and their Power Walkthrough tool built within eWalk – for a small, additional fee. If interested in McREL's content, let us know in the Comments section when you sign-up using the form above.
"I used Power Walkthrough (eWalk) with our faculty for the first time this past year. Concurrently, we did a book study of "Classroom Instruction that Works." The teachers have found the book study to be helpful, but really appreciated the quality feedback they received on their lessons as I visited their classrooms."
Tim Plath
Additional Details
Use WELS specific observation forms – including the WELS Continuum of Teacher Development and a form created by Prof. John Meyer, PhD of Martin Luther College. You can also create your own custom forms if you have additional goals.
Eliminate the Paperwork – Being an electronic tool, you can avoid the organizational issues, time consumption and general lack of effectiveness that conducting walkthroughs with pen and paper provides. eWalk also compiles all of your data for reporting purposes, which is something that can't easily be done with the old method.
Take eWalk with You, Anywhere – Use it on any web-browser or on your mobile device with our offline supported mobile application for Android and Apple devices.
Keep Things Organized – Quickly see and review every walkthrough that has been conducted at your school, organized by date, teacher and category.
Easily Monitor Your Observation Progress – Use our workflow tool to track your walkthroughs to ensure each and every teacher is seen as many times as required, in a timely manner.
Provide Powerful, Immediate Feedback for Your Teachers – Leave notes on every look-for, attach documentation, pictures, video, audio recordings and more. Send it to the teacher immediately upon completing their walkthrough, all through eWalk.
Discover Trends with eWalk's Intuitive Data Reports – This platform's reporting tools allows you to identify any trends and use the actionable data to create positive change within your learning environment. Aggregate your data and compare time periods and more to see how much your teachers have grown their abilities.