We have a lot of very big features that you may already be familiar with in the new eWalkPLUS, so I thought I would take a moment to go over some of the more subtle yet powerful changes that we have included in the system. We're releasing updates to eWalkPLUS this month and will be highlighting in MXBLOG over the coming months.
A little background first. eWalkPLUS extends our best selling eWalk application with the addition of many, many new features. It allows you to build custom views for a wide variety of tasks related to classroom walkthroughs and observations as well as staff evaluations for teachers, principals and non-teaching staff. Because it's built on eWalk, every data collection piece works offline using eWalk on your iPad, iPhone, Android, Windows or BlackBerry 10 device.
There are a lot of little touches that we've included in eWalkPLUS that are simply amazing once you start to use them on a daily basis.
Here are a few:
1.  File Attachments
eWalkPLUS has expanded on eWalk's file attachment options.  You can now enable file attachments for any walkthrough, observation or summative form.  We now support .csv, .txt, .pdf, .ppt, pptx, .xls, xlsx, .doc, .docx.
Why is this interesting?
This is an incredibly useful option when you need to add supporting documents, or examples to help support an assessment.  We've found this is a very popular tool for teachers that want to add additional information to their self-assessments or portfolios.

 2.  Sound Files
There is now full support for the upload of sound files in .mp3 format.
Why should you care?
This means that you can now capture audio from an observation or interview and attach it to a document as supporting evidence or as a reminder.  This could be used to capture a class in progress or a notable moment of teacher student interaction.  eWalkPLUS comes with its own set of audio controls, so you can play back these media files without ever having to leave the form!
 3.  Rubric Elements
This is a feature that you've perhaps seen in our literature, we are very proud of this new question type.  Specify the column and rows needed and then build your rubric with our visual element builder.  Easy!
What could I use this for?
While eWalk has long supported simple four level rubrics, eWalkPLUS has now expanded on the rubric element to create an amazingly flexible tool for building any rubric you might think of.  This means you can now support any of the popular evaluation frameworks right out of the box.  This new element type is now also fully supported on the iPad which is an amazingly easy way of quickly filling out these types of questions on the go.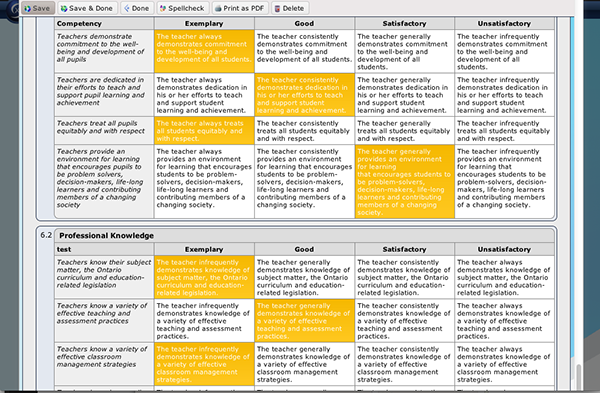 4.  Manage Walkthrough Columns Reordering
The new manage walkthrough view in eWalkPLUS has a very handy feature which is brand new to our platform.
What does this mean?
You now have full control over the order of the columns on display.  If you want to order things by name, and like to think in those terms, simply drag the name column over to the right hand side.  The whole thing lifts up and can be moved to where you place it.  Reorder your data in any way that makes best sense to you.  And the best part?  eWalkPLUS remembers your settings from session to session, so you can arrange things the way you like and those changes be waiting for you exactly as you left them.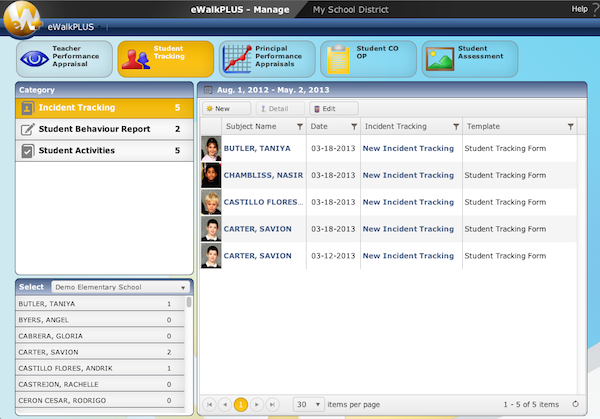 5.  Staff Pictures
eWalkPLUS now allows you to upload staff pictures and display them in the working interface.
What would this be used for?
Being able to tie together a name and face can be very helpful for dynamic environments where new staff are being evaluated by busy principals and peers.  We also fully support this functionality for student memberships, allowing you to setup your schools with a portrait picture for each student available.
There are so many more features that I'm uncovering on a daily basis, I will be sure to follow up a little later on with a post about how these items can really help your workflow.
If you have any additional ideas on how these features might be used in your own schools, please let us know below!